Message from the President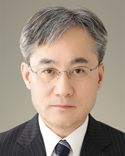 Dear Colleagues
It is my great honor to announce the 24th Japan Society of Gene and Cell Therapy (JSGCT) Annual Meeting being held on July 26 to 28, 2018 at the Toranomon Hills Forum, Tokyo, Japan.
Since 1990 when the first gene therapy clinical trial was conducted for adenosine deaminase deficiency, gene and cell therapy has made steady progress with repeated ups and downs and proven to be effective in ex vivo stem cell gene therapy for primary immunodeficiencies and metabolic disorders, in vivo gene therapy using adeno-associated virus for hemophilia and inherited retinitis, CAR-T therapy for B cell leukemia and malignant lymphoma, and oncolytic virus therapy for solid tumors. With this, the international momentum for the practical realization of gene therapy as an innovative medical drug has increased rapidly and facilitated more companies to conduct gene therapy clinical trials worldwide for various intractable diseases. In addition, a new approach using genome editing techniques for diseases has also been applicable in clinical trials and in the near future the definition of gene therapy may change from "therapy with a gene" to "therapy for a gene".
On the other hand, such a new technology to be put into practice, sometimes carry unimaginable risks which urges us to have further discussion on ethical issues, with other fields. The experience of tragic setbacks and overcoming times of difficulties has strengthened gene and cell therapy to establish itself as a safe and effective therapy and I am certain to say that our society will play a critical role in the contribution to the progress of gene and cell therapy in Japan.
As shown by the theme of the Meeting, "Gene and Cell Therapy, To Take One Step Forward", I am prepared to make many plans that would hopefully contribute in bridging the "Valley of Death" which would lead to further development of gene and cell therapy in Japan.
I sincerely hope many person engaged in this field could participate to obtain new information about ongoing gene and cell therapy protocols and feel the zeal for innovative new technologies. I also hope that the 24th JSGCT Annual Meeting will be exciting and fascinating for all participants and look forward to seeing many of you in Tokyo, 2018.
Sincerely yours,
Masafumi ONODERA, M.D., Ph.D.
President of the 24th JSGCT2018
Head, Department of Human Genetic,
National Center for Child Health and Development